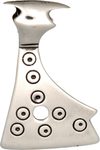 Pendentif fait main en acier damas- Marteau de Thor.
taille: 3.9 x 4.5 cm (total)
boucle: diamètre intérieur 7mm, épaisseur : 2mm
Matériau : acier damas.
Stylish postapo pirate patch
length: 64 cm
size of patch: 5x6.5 cm
The boar is a symbol of masculine power. Replica of a figure of a boar, locality: Tabor (Bohemia), Age: La Tene culture. Length: 3 cm. Material: tin alloy. Leather bolo is 65 cm long and it includes two tin terminals in a shape of a head of a boar.
The troll cross is an amulet made of a circle of iron crossed at the bottom in a shape of an odal rune. It was worn by Scandinavian people as a protection against trolls. Size: 4,5 cm. Material: iron. Leather bolo is 65 cm long and it includes two tin terminals in a shape of a head of a…
Hand casted pendant - LARGE AIR DRAGON. Material: tin alloy coated with antimony. Size circa 4.5 x 6.0 cm. Leather bolo is 65 cm long and it includes two tin terminals in a shape of a head of a dragon.
Cernunn (Kernunn, Cernunnos), Lord of the Animals and the Guardian of the doorway between the natural Kingdom and the Celtic Otherworld. Cernunn is commonly pictured with stag antlers and sitting in the lotus position. The design is based on a motive on the Gundestrup Cauldron which was…
Un Marteau de Thor, forgé à la main pour ceux qui préfèrent cette technique à la fondrie. Ce Mjollnir est né de l'acier et du charbon. Taille : 3 x 5 cm (avec l'anneau ), diametre intérieur de l'anneau: 9 mm. Corde tressée à têtes de loup viking. Inspiration : croix de loup, de Fossi, Islande, …
A Thor's hammer with wolf heads on a leather cord. Thor's Hammer, or Mjöllnir, is the God Thor's magical weapon. The Norse seamen and warriors wore it around the neck as a pendant. The magical hammer is unbreakable, it always hits the target and then comes back to the owner's hand. The hammer…
Icelandic Wolf Cross Necklace with Braided Leather Bolo. On their raids Vikings also reached Iceland and brought with them unique Thor's Hammer amulets. One of them is a so called Wolf Cross, a cross like shape with a wolf head. Our reproduction is more animalistic. Viking wolf Fenrir is the…
Tin Thor's hammer manufactured by Wulflund finds its inspiration in an Oseberg style (viking art style) that is known from a large burial mound at the Oseberg farm near Tønsberg in Vestfold County, Norway. Head comes from Oseberg drakkar ship. This hammer should protects you on the ground (knotted…
Pewter replica of a viking Mjolnir (Raven Head Thor Hammer) that was found in the locality of Kabara, province of Scania, Sweden. Size of 4 x 5 cm. Icelandic wolf head terminals and braided leather cord (65 cm) included.
This leather braided bolo with bronze Thor's Hammer is a replica from Scania, Sweden. Bronze head terminals are inspired by Icelandic Wolf cross. Thor's Hammer, or Mjöllnir, is God Thor's magical weapon. The hammer is unbreakable, it always hits the target and then comes back to the owner's hand…
Braided Leather Bolo with Viking Wolf's Heads Terminals. Inspiration: wolf cross from the locality of Fossi, Iceland. You can attach a pendant using the openings in the beast mouth. Fenrir is the eldest son of the God Loki and the Giantess Angrboda. The Gods have bound monstrous Fenrir but his fate…
Fenrir - the Viking Wolf. The fate of this mythological wolf is to fight with Odin during Ragnarök. Jewel is inspired by the viking art style Borre (named after the locality in Norway, IX. - X. century). Pendant is large (2.1. x 4 cm). Material: tin. This wolf's head pendant is…